Google Analytics has a huge caveat. While Google offers free analytics services, it does so in exchange for sharing that data with Google. As there is a rise in the need for more privacy and need for more privacy focussed products and tools, there has been this surge in alternatives to Google Analytics with a focus on privacy aka Privacy-Friendly Analytics.
Some simple-to-use google analytics alternatives and privacy-friendly analytics have stormed the market that can help many site owners. Fathom Analytics, Plausible Analytics, Simple Analytics, Kuku Analytics and Indicative Analytics among others are the alternatives to Google Analytics. Beyond that, this list goes further with Matomo, Open Web Analytics, clicky, Mixpanel, Umami and Panel Bear.
A few notable additions to the list are SEAL metrics and Pirsch Analytics.
Privacy-Friendly Google Analytics Alternatives
The 3 most used privacy analytics tools among these are Fathom Analytics, Plausible Analytics and Simple Analytics. The piece was compiled post some research and trial use of the 3 products. Thus, this blog gives you an overall snapshot and comparison between the three tools used for the purpose of privacy analytics.
The comparative chart gives an overview of the difference between the 3 tools.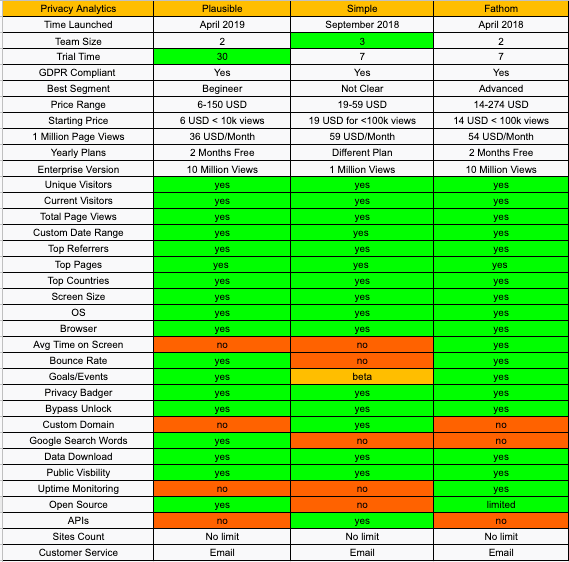 Plausible Analytics was launched in April 2019. As of now, it is the most recent product as compared to the other competitors. Despite the recency, Plausible Analytics has become one of the most popular ones used these days. It has all the basic features along with a lot of interesting features.
One of the most interesting ones is the inbuilt Google Search Keywords Feature. Lots of other obvious outputs such as total average time on site and per referral source average time on site. Similar to the case of average time on site: they provide the total bounce rate, per referral source bounce rate and per page bounce rate.
Standouts
The overall product feels simple and quick and has a lightweight script of less than 1 KB, loading very fast. The views are restricted but no restrictions on websites.
Plausible gives 30 days trial period. Most privacy analytics sites give less than this!
Extra features in form of referral drill down, page drill down and full UTM tags support. Besides that, an open-source version of the product can be deployed on your own server as well.
5% of their gross revenue goes to environmental causes and open-source projects.
Plausible is shareable. Your stats are private by default. The stats are transparent and can be made public with a custom link.
Launched in the September of 2018. Simple analytics gives almost all the features as plausible analytics but it is on the pricier side. Some of the features that are not provided by them are average time on site, bounce rate and even goals. The events feature is in beta.
Standouts
One of the unique features is the availability of APIs which can be used for internal custom dashboarding.
They also support custom domains.
It also offers an unlimited number of sites but as expected, the restriction is on the number of views like others.
They also offer a feature called tweet viewer, which shows the exact tweet where you got traffic from.
Co-founders Paul Jarvis and Jack Ellis launched Fathom analytics in April 2018. It has been in the market for the longest period of time. Fathom also is one of the first privacy tools to have come up in the market. They claim to be an ethical, lightweight and open-source privacy-friendly Google analytics alternative.
Standouts
Fathom price is somewhere in the middle when compared with the other two platforms.
It has features like where your current users are coming from at a specific moment similar to Google Real Time.
Fathom also offers free uptime monitoring and unlimited data retention on every plan. Fathom monitors your site 24/7 and sends you a text, email, Telegram or Slack message the second it stops.
One can quickly see analytics across any timeframe.
Beyond that, some of the extra features include dark and light modes, private, public or passworded dashboards and referral programs.
How to choose?
The comparison matrix compares all the major features. For a starting site, one can choose Plausible Analytics as it is really affordable and simple for up to 10K views. It meets most of the basic feature sets. So, if you are just starting out, you could start out with Plausible.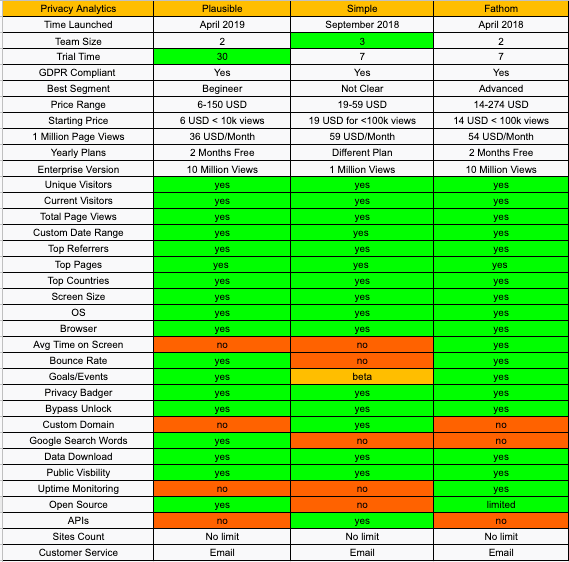 Simple analytics is the way to go if custom domains and APIs are deal-breaker features. These though, come at an extra price, that one can easily live without it. Some of its features are in beta, so the roadmap looks good. Though, at this point in time, it loses to the other two.
All in all, for the price, compared with the features on offer. Fathom analytics is the best among the three. Some of the extra features offered, do help in making better decisions. It is best for someone who has been in the market for quite some time and wants to bring in privacy analytics.
Despite the similarity, the key difference will be in the product roadmap and space of execution. Plausible being the latest has been the fastest at execution.
Other Notable Google Analytics Alternatives
Besides the above 3, there are a couple more that have come to our notice and stand out in their own way serving either a specific audience or a unique product roadmap.
Pirsch Analytics: Developed out of a startup project working on fingerprinting technology.
SEAL Metrics:

Born out of a marketing and analytics company that pivoted to privacy analytics post-EU regulation.
Built primarily for marketers and does a fantastic job at tracking marketing metrics.
Here is a comparative table provided by SEAL metrics.

Beam Analytics:

Been following the founder and their updates for a long time.
Linear pricing vs tiered one
Cheaper than the competition.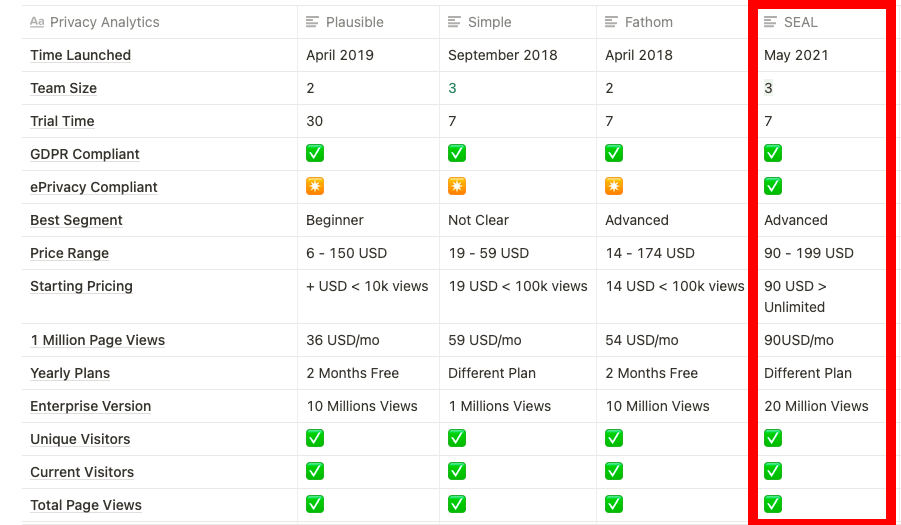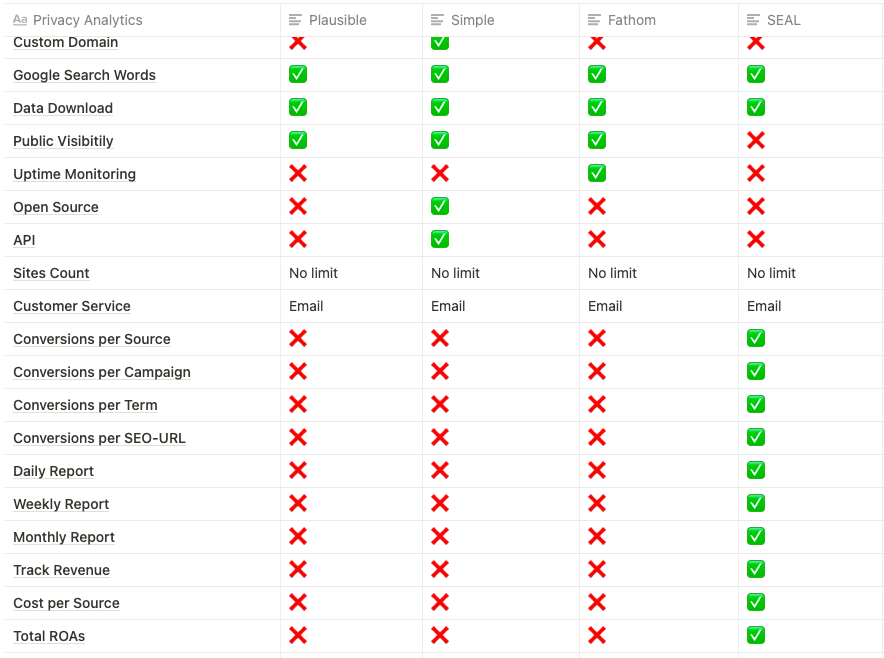 You can reach out to admin[@]startupanalytics.in